| | |
| --- | --- |
| The United Kingdom of Great Britain and Northern Ireland (or the UK) is a constitutional monarchy comprising much of the British Isles. The UK today is a diverse patchwork of native and immigrant cultures, all with a rich history. In the 1700s, illegal gambling houses hired a special person to swallow the dice if the police showed up. Nowadays, the monarch owns all the sturgeon , whales and dolphins in the waters within 3 miles of land. | |
Jyotsna Paranjape Where's Jocko? A touch of dread The food loving cat, with a clock for a stomach, Not there. Touch of dread - he was not there, padding...
Bhama Daly It was one of those typically spring mornings in a north London suburb, with slivers of sunlight desperately trying to break through dense cloud. Marissa Samson walked...
Bhama Daly Sunlight streams in through the stained-glass window of the old, stone church. Marissa looks at Nigel dressed in his top hat and tails. He cuts a dashing...
La vieuville was suddenly cut short by a cry of despair, and a the same time a noise was heard wholly unlike any other sound. The cry and sounds came from within...

Rudyard Kipling Cry "Murder!" in the market-place, and each Will turn upon his neighbor anxious eyes That ask:—"Art thou the man?" We hunted Cain Some centuries ago, across the world,...
Rudyard Kipling In the sea, once upon a time, O my Best Beloved, there was a Whale, and he ate fishes. He ate the starfish and the garfish, and the...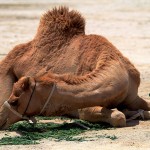 Rudyard Kipling Now this is the next tale, and it tells how the Camel got his big hump. In the beginning of years, when the world was so new and...
Jill Peer Weston Super Mare on a windy day, Blustery gales ablowing, blow me away. Caravans in rows lined up everywhere, We are in our camper so we don't...
Mari Wallace "Dave! Dave! Come quick! There are cows!" Jen's eyes were wide with astonishment as she pointed excitedly to the brown and white faces peering over the fence....
The tents were pitched in the little plain surrounded by hills. Right and left there were stretches of tender, vivid green where the young corn was springing; farther still, on...