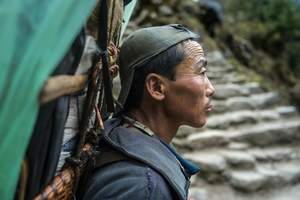 Mocco Wollert
He sat in the dusk trying to read an English book;
I had told him to learn English and he tried to please me.
Introduced as Chhongba only, he never used my first name but held onto the old "Mem-Sahib".
He was handsome and strong, small as Nepal men are,
without guile and at the end of the trek
he washed his hair and body and I had never
thought about it when we shared the same water flask.
He was the spirit of Nepal and led me to her heart.
The snow was dirty, thirst created hallucinations
but he was there to guide me to the hut.
His stepmother hated him so he came to Kathmandu;
a lonely, frightened child but he was Sherpa.
'If only I could go to school,' hearing his words I was glad
I put those folded rupees into a wooden box
standing in the snow near a school along the trek.
© 2014 Mocco Wollert
Image: Francis Ling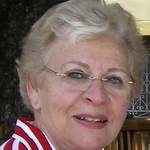 Mocco Wollert was born in Cologne and, as a child in Germany during the Second World War, survived the bombings of Cologne and Dresden and capture by Soviet forces. She eventually succeeded in fleeing to the west, making her way to Australia in the 1950s. Mocco taught herself English along the way by reading books in the language, and now writes happily in either German or English. Her often passionate and sensual writing about human emotions and intimacies, which she views as reflecting a European literary heritage, stirs feelings that are universal. Her economy of style draws on the influence of Japanese haiku, which she much admires. Mocco has had eight books published in Australia and focuses especially on poetry. Her most recent book is Australia – Images and Inspiration, written in collaboration with the artist Glenise Clelland and published in November 2014. She is currently working on a memoir of life in 1960s Darwin. Mocco's poems have won numerous prizes and have been widely published by the literary press. She lives in Brisbane with her husband and they have two daughters.