Katica Kulavkova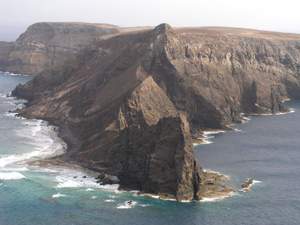 1.
Record of
tectonic shifts.
Seams. Fault lines.
2.
Stark naked craving
creature, open wide
to fear and passion.
3.
Camel-hump hill.
A stone carver smokes
his pipe. Opium.
4.
Crag oblivious
to the hue and cry
of the sea's cravings.
5.
A huge rock. Stark
naked in doomed passion.
Eyes closed.
6.
A savage beast
desperate in its craving
quivering in fear.
© 2014 Katica Kulavkova
Translated by Richard Berengarten
Image: João Máximo
Katica Kulavkova was born in Veles, Macedonia, and is a poet, essayist and writer of short stories. She studied literature at the University of "Cyril and Methodius" in Skopje, at the Sorbonne and at the University of Zagreb. She has published more than twenty books of poetry as well as two collections of short stories, one play and forty other books. Her poetry has been translated into various languages and she has received numerous Macedonian literary awards. Katica is Professor of the Theory of Literature, Literary Hermeneutics and Creative Writing at the University of Skopje, a member of the Macedonian Academy of Sciences and Art, a member of the European Academy of Sciences and Arts and a Vice President of PEN International. Katica lives in Skopje and is married with one son. When not working, she enjoys astrology and photography.