How the Junkman Travelled to Find Treasure in his own Yard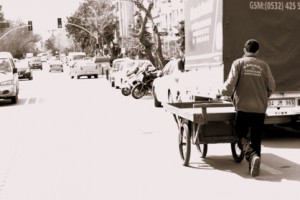 On one of the towers overlooking the Sea of Marmora and skirting the ancient city of Stamboul, there lived an old junkman, who earned a precarious livelihood in gathering cinders and useless pieces of iron, and selling them to smiths.
Often did he moralize on the sad Kismet that had reduced him to the task of daily laboring for his bread to make a shoe, perhaps for an ass. Surely he, a true Mussulman, might at least be permitted to ride the ass. His eternal longing often found satisfaction in passing his hours of sleep in dreams of wealth and luxury. But with the dawning of the day came reality and increased longing.
Often did he call on the spirit of sleep to reverse matters, but in vain; with the rising of the sun began the gathering of the cinders and iron.
One night he dreamt that he begged this nocturnal visitor to change his night to day, and the spirit said to him: "Go to Egypt, and it shall be so."
This encouraging phrase haunted him by day and inspired him by night. So persecuted was he with the thought that when his wife said to him, from the door, "Have you brought home any bread?" he would reply, "No, I have not gone; I will go to-morrow;" thinking she had asked him, "Have you gone to Egypt?"
At last, when friends and neighbors began to pity poor Ahmet, for that was his name, as a man on whom the hand of Allah was heavily laid, removing his intelligence, he one morning left his house, saying: "I go! I go! to the land of wealth!" And he left his wife wringing her hands in despair, while the neighbors tried to comfort her. Poor Ahmet went straight on board a boat which he had been told was bound for Iskender (Alexandria), and assured the captain that he was summoned thither, and that he was bound to take him. Half-witted and mad persons being more holy than others, Ahmet was conveyed to Iskender.
Arriving in Iskender, Hadji Ahmet roamed far and wide, proceeding as far as Cairo, in search of the luxuries he had enjoyed at Constantinople when in the land of Morpheus, which he had been promised to enjoy in the sunshine, if he came to Egypt. Alas! for Hadji Ahmet; the only bread he had to eat was that which was given him by sympathizing humanity. Time sped on, sympathy was growing tired of expending itself on Hadji Ahmet, and his crusts of bread were few and far between.
Wearied of life and suffering, he decided to ask Allah to let him die, and wandering out to the Pyramids he solicited the stones to have pity and fall on him. It happened that a Turk heard this prayer, and said to him:
"Why so miserable, father? Has your soul been so strangled that you prefer its being dashed out of your body, to its remaining the prescribed time in bondage?"
"Yes, my son," said Hadji Ahmet. "Far away in Stamboul, with the help of God, I managed as a junkman to feed my wife and myself; but here am I, in Egypt, a stranger, alone and starving, with possibly my wife already dead of starvation, and all this through a dream."
"Alas! Alas! my father! that you at your age should be tempted to wander so far from home and friends, because of a dream. Why, were I to obey my dreams, I would at this present moment be in Stamboul, digging for a treasure that lies buried under a tree. I can even now, although I have never been there, describe where it is. In my mind's eye I see a wall, a great wall, that must have been built many years ago, and supporting or seeming to support this wall are towers with many corners, towers that are round, towers that are square, and others that have smaller towers within them. In one of these towers, a square one, there live an old man and woman, and close by the tower is a large tree, and every night when I dream of the place, the old man tells me to dig and disclose the treasure. But, father, I am not such a fool as to go to Stamboul and seek to verify this. It is an oft-repeated dream and nothing more. See what you have been reduced to by coming so far."
"Yes," said Hadji Ahmet, "it is a dream and nothing more, but you have interpreted it. Allah be praised, you have encouraged me; I will return to my home."
And Hadji Ahmet and the young stranger parted, the one grateful that it had pleased Allah to give him the power to revive and encourage a drooping spirit, and the other grateful to Allah that when he had despaired of life a stranger should come and give him the interpretation of his dream. He certainly had wandered far and long to learn that the treasure was in his own garden.
Hadji Ahmet in due course, much to the astonishment of both wife and neighbors, again appeared upon the scene not a much changed man. In fact, he was the cinder and iron gatherer of old.
To all questions as to where he was and what he had been doing, he would answer: "A dream sent me away, and a dream brought me back."
And the neighbors would say: "Truly he must be blessed."
One night Hadji Ahmet went to the tree, provided with spade and pick, that he had secured from an obliging neighbor. After digging a short time a heavy case was brought to view, in which he found gold, silver, and precious jewels of great value. Hadji Ahmet replaced the case and earth and returned to bed, much lamenting that it had pleased God to furnish women, more especially his wife, with a long tongue, long hair, and very short wits. Alas! he thought, if I tell my wife, I may be hung as a robber, for it is against the laws of nature for a woman to keep a secret. Yet, becoming more generous when thinking of the years of toil and hardship she had shared with him, he decided to try and see if, by chance, his wife was not an exception to other women. Who knows, she might keep the secret. To test her, at no risk to himself and the treasure, he conceived a plan.
Crawling from his bed, he sallied forth and bought, found, or stole an egg. This egg on the following morning he showed to his wife, and said to her:
"Alas! I fear I am not as other men, for evidently in the night I laid this egg; and, wife mine, if the neighbors hear of this, your husband, the long-suffering Hadji Ahmet, will be bastinadoed, bowstrung, and burned to death. Ah, truly, my soul is strangled."
And without another word Hadji Ahmet, with a sack on his shoulder, went forth to gather the cast-off shoes of horse, ox, or ass, wondering if his wife would prove an exception in this, as she had in many other ways, to other women.
In the evening he returned, heavily laden with his finds, and as he neared home he heard rumors, ominous rumors, that a certain Hadji Ahmet, who had been considered a holy man, had done something that was unknown in the history of man, even in the history of hens—that he had laid a dozen eggs.
Needless to add that Hadji Ahmet did not tell his wife of the treasure, but daily went forth with his sack to gather iron and cinders, and invariably found, when separating his finds of the day, in company with his wife, at first one, and then more gold and silver pieces, and now and then a precious stone.