Jill Peer
Weston Super Mare on a windy day,
Blustery gales ablowing, blow me away.
Caravans in rows lined up everywhere,
We are in our camper so we don't care.
Waves like white horses bounding back and forth,
Most of the visitors come from the North,
Speaking a twang that I will always know,
Enjoy the early sunshine, see it glow.
The Old Weston Pier was burnt to the ground,
The New Weston Pier's just the same, I found.
But there was a little place called Uphill,
'Twas tucked away and old but standing still.
I ask you, when you go to Weston Town,
Please go and see Uphill and look around.
I saw it from a distance as a silhouette,
The church on the horizon I couldn't quite forget.
You could see the little sail boats, I sketched them in my book,
We drove around to find it and get a better look.
The café was delightful, they'd built it in the rocks,
The sailboats were appalling, lying in dry docks,
The houses were delightful and some stood back with grace,
So close to Weston Super Mare but such a vintage place.
© 2014 Jill Peer
Image: Martin Bodman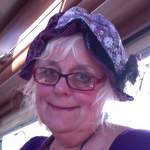 Jill Peer is a writer of stories, poetry and songs. She has spent her life involved in art, writing and creativity, having begun as an engineering tracer. Jill has worked with people of all ages, encouraging them to be creative. Now well into her sixties, she works regularly with 11 to 17 year olds, many from troubled backgrounds. Jill is a keen artist and uses her talent to illustrate her books for both children and adults. She says "Pictures are easy for all to read." Jill loves performing her work and dramatising it with audience participation and colourful action. She holds regular art and literary exhibitions in Worcestershire.
www.jillpeertreatments.com