Mocco Wollert 
He asked me again and again "to come and see"
child man, proud Sherpa, trusting innocent, philosopher.
It was important to him to share his pride.
Unprepared I entered:
the agony was undiluted, the screams silent,
angry red flesh festered through matted hair.
Steps retraced, repeated in endless circuits.
Crucifixion of a different kind:
cross, cage, confinement, dirt, dung, defilement.
A lion cub is the only redeemer, playing, still whole.
If only I could have cried, torn the cages, fought the steel!
Instead in sorrow and pain:
I begged silent forgiveness, while he shone with pride.
© 2014 Mocco Wollert
Image: Sundar1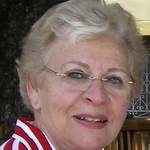 Mocco Wollert was born in Cologne and, as a child in Germany during the Second World War, survived the bombings of Cologne and Dresden and capture by Soviet forces. She eventually succeeded in fleeing to the west, making her way to Australia in the 1950s. Mocco taught herself English along the way by reading books in the language, and now writes happily in either German or English. Her often passionate and sensual writing about human emotions and intimacies, which she views as reflecting a European literary heritage, stirs feelings that are universal. Her economy of style draws on the influence of Japanese haiku, which she much admires. Mocco has had eight books published in Australia and focuses especially on poetry. Her most recent book is Australia – Images and Inspiration, written in collaboration with the artist Glenise Clelland and published in November 2014. She is currently working on a memoir of life in 1960s Darwin. Mocco's poems have won numerous prizes and have been widely published by the literary press. She lives in Brisbane with her husband and they have two daughters.