Mocco Wollert
Night lies still heavily in the valley
but Purri brings the morning tea
and way above the sleeping shadows
dawn still hides like a waiting bride.
The cold is part of every morning's ritual,
hands warm around the steaming cup,
eyes lift up to the unlit skyline
of hidden, waiting, eternal giants.
Night's curtain rises for a dawn
that wraps the snowcapped peaks
in pink-glazed velvet, rimmed with gold
which glows above the night valley.
Two people, their hands entwined,
sit in a terraced field, still darkness bound,
in worship of an unknown God
as Machapuchare begins to flame.
© 2014 Mocco Wollert
Image: Lawrence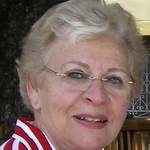 Mocco Wollert was born in Cologne and, as a child in Germany during the Second World War, survived the bombings of Cologne and Dresden and capture by Soviet forces. She eventually succeeded in fleeing to the west, making her way to Australia in the 1950s. Mocco taught herself English along the way by reading books in the language, and now writes happily in either German or English. Her often passionate and sensual writing about human emotions and intimacies, which she views as reflecting a European literary heritage, stirs feelings that are universal. Her economy of style draws on the influence of Japanese haiku, which she much admires. Mocco has had eight books published in Australia and focuses especially on poetry. Her most recent book is Australia – Images and Inspiration, written in collaboration with the artist Glenise Clelland and published in November 2014. She is currently working on a memoir of life in 1960s Darwin. Mocco's poems have won numerous prizes and have been widely published by the literary press. She lives in Brisbane with her husband and they have two daughters.