Seekers of the Beauty Myth
Bhama Daly
Marissa Samson strides into the Legend of the Seeker Beauty Salon. Her squared shoulders, detached expression and proud bearing belie the tightness in her chest and the sweating of her palms.
The salon with its pastel lighting, muted chants of oriental meditation, and incense of patchouli, ylang-ylang and cinnamon, emanates the aura of a sacrosanct space of secret women's business.
The flamingo-like beauty therapist, white-sheathed uniform melded onto a mannequin's body, looks up perfunctorily. She flashes a porcelain-veneered, ruby-plum smile, as welcoming as that of a ventriloquist's dummy.
"Can I help you?" She enquires of Marissa, who is flustered, flushed and fifty.
Madam Flamingo waits patiently as Marissa rummages in her scarlet vinyl handbag, which is a bit the worse for wear with its frayed edges, but functional.
Not one of the usual clients. Obviously one who has lost her way and needs directions, muses Madam Flamingo.
"Found it."
The smile radiating from Marissa's face is like moonlight on water.
She produces a creased Mother's Day voucher which in its past life had been posted in a pristine envelope with gold-embossed lettering. The expiry date on the crisscrossed greying voucher is April 2016.
Just as Madam Flamingo is about to remind Melissa that the voucher may no longer be valid because the clinic is fully booked for the month of April, Marissa silences her with a wave of her hand.
"I made the appointment a month ago.
"The receptionist advised me to set aside a day for the Deluxe Age-Defying Facial, Body Massage, Manicure and Pedicure."
Madam Flamingo's Botox features register an expressionless smile. She presses the buzzer with a gel-taloned nail. An Asian woman appears. She ushers Marissa into the sacrosanct space of beauty therapy.
Time stands still.
Marissa lies like a Mummy on the altar of hands that cleanse, purify and tone.
Her face is encased in a mask of herbs, seaweed, and silicone, which is peeled off to give the illusion of metamorphosis.
Her flesh is kneaded and pummelled like dough to be burnt at the altar of the gods.
Marissa lies rigid with apprehension, guilt and discomfort. But just as she is about to write off the experience as an exercise in vanity, she experiences a transformation in her mental and physical state.
Heated volcanic rocks on her neck, back, torso and legs radiate warmth and relaxation.
She descends into the imaginary cocooned environment of Isis and her ladies-in-waiting. She imagines a bath of goat's milk, sacred lotions and unguents. Her hair is braided, her nails filed with reeds from the Nile and painted with dyes ground to a silky paste in a mortar and pestle. No man is allowed into the altar of beauty.
"Mrs Samson. Mrs Sampson."
The massage therapist touches her lightly on her shoulder.
No wonder it is called The Legend of the Seeker Beauty Salon, Marissa muses.
For a snapshot of time she had entered the world of Isis.
© 2016 Bhama Daly
Image: Vectorportal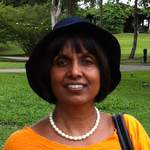 Bhama Daly was born in Kuala Lumpur. New horizons beckoned and, in the 1970s, she pursued a career in nursing in London. She migrated to Cairns with her husband Simon in 1978. They have two sons. Bhama's career has embraced not only nursing but also academic work at the University of Queensland and the James Cook University, Cairns. Her research and writing are informed by stories, myths and legends and the way in which they provide explanations for being in the world. Bhama's interests include writing, reading, Yoga, Tai Chi, Zumba and, a topic of endless procrastination, how not to write the best-selling novel. www.tropicalwriters.com.au